Sofia Koskelainen
Was braucht es, um ein Vertriebsprofi zu werden und wie ist es, eine Sprache von Grund auf neu zu lernen? Diesmal stellen wir unseren Vertriebsprofi Matti Kangas vor, der jetzt nach Finnland umgezogen ist, aber weiterhin seinem Job als großartiger Sales Manager nachgeht. In den letzten 12 Jahren hat Matti fast 7 Jahre in Deutschland verbracht, aber wie begann das alles?
"Meine Reise bei Fastems begann 2007, als ich in Deutschland als Instandhaltungskoordinator arbeitete und gleichzeitig meine Diplomarbeit über Projektmanagement schrieb. Ursprünglich kam ich aufgrund meines Ingenieurstudiums nach Deutschland, wo ein Austauschstudium Pflichtteil für den Abschluss war. Ich konnte die deutsche Sprache kaum, bevor ich nach Deutschland gezogen bin. Abgesehen von ein paar Kursen, die ich in der Schule in Finnland hatte. Mein Austauschstudium war komplett auf Deutsch und die anderen Studenten kamen von dort, weshalb ich schnell damit anfing, die neue Sprache zu lernen."
Nach dem Austauschstudium ging das Deutschlernen weiter, da Matti in Deutschland blieb und mit Kunden vor allem aus D, A und CH und den Benelux-Ländern arbeitete. Schnell lernte er die Fachterminologie kennen und nach zwei Jahren begann er, sich fließend auf Deutsch zu verständigen. All die neuen Herausforderungen waren mit einigen Vorteilen verbunden: zum Beispiel während seiner ersten Jahre in Deutschland, als Matti zum Skifahren in die Alpen fuhr und das Beste dort herausholte.
Jetzt im Rückblick stellte sich die knapp dreijährige Arbeit als Instandhaltungskoordinator als starke Basis für den Vetrieb heraus. Matti betont, wie wichtig das Kennenlernen der Systeme und Funktionen sowie das Erlernen der Funktionsweise der Organisation für die Umschulung für seine neue Rolle im Vertrieb war.
"Nach fast zwei Jahren im Vertrieb kehrte ich 2012 zu Fastems zurück und arbeitete zunächst als Projektmanager im Life Cycle Services-Team. Im Jahr 2014 habe ich mein Interesse bekundet, in den Vertrieb zu wechseln, und etwas mehr als ein halbes Jahr später begann mein Weg als Vertriebsleiter in Deutschland."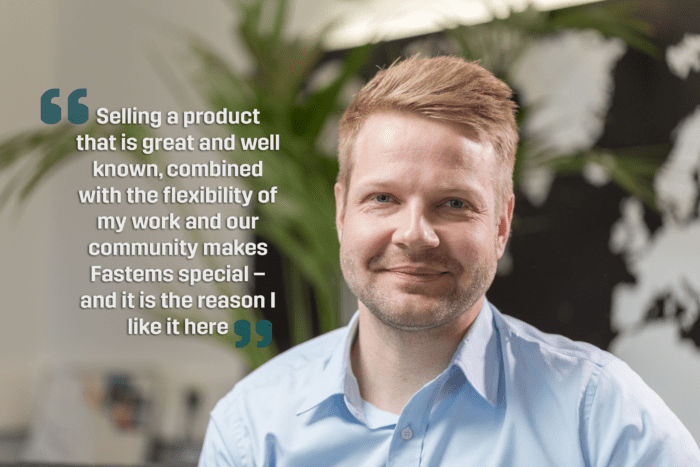 Das Interesse am Vertrieb und die Bereitschaft, ständig dazu zu lernen und verschiedene Rollen zu sehen, sind Faktoren, die Matti als einen wichtigen Teil des Verkaufserfolgs beschreibt. Aber was sieht er als den besten Teil seiner Arbeit an?
"Zusammenarbeit. Ich bin eine soziale Person und ich denke, dass das Beste an meinem Job ist, mit anderen Leuten zu arbeiten."
"Ich denke diese Position ist so interessant, da ich mit Subunternehmern, Sales Support und Kunden zusammenarbeite, um nur einige zu nennen, und so die Chance habe, mein eigenes Wissensgebiet kontinuierlich zu erweitern. Es ist auch toll zu sehen, wie sich das Erreichen und Überschreiten von Zielen auf das Gesamtbild auswirkt. Ein Produkt zu verkaufen, das großartig und bekannt ist, kombiniert mit der Flexibilität meiner Arbeit und unserer Gemeinschaft, macht Fastems zu etwas Besonderem – und das ist der Grund, warum ich es hier mag."
Nachdem Matti von den letzten 12 Jahren fast 7 Jahre in Deutschland gelebt hat, kehrte e rim August 2017 nach Finnland zurück. Er übernimmt jedoch die gleiche Funktion von Finnland aus. Die größte Veränderung in seinem Beruf war, dass er nicht mehr in der Nähe des Verkaufsgebietes wohnte, sodass das Fahren von 65.000 km pro Jahr reduziert und teilweise auf reguläres Fliegen verlagert wurde.
"Ich reise fast die Hälfte der Zeit und das ist es, was meinen Job weiterhin interessant macht. "I travel almost half of the time and it keeps my job interesting. Ich genieße die Abwechslung meiner Arbeit, besonders wenn ich verschiedene Produktionstechnologien und Fabrikstandorte von Waren sehe, die irgendwie mit meinem eigenen Leben verbunden sind – zum Beispiel Reisen, Gesundheitswesen und Konsumgüter. Für mich könnte es sogar langweilig sein, die ganze Zeit im Büro zu bleiben. Es geht um die Balance – lange Arbeitswochen auf Reisen bringen Flexibilität für die Zeit, die ich in Finnland verbringe. Meine Arbeit war schon immer interessant und hat mir viel Spaß gemacht. Manche Wochen scheinen sogar zu schnell zu vergehen, wenn ich plötzlich merke, dass schon Wochenende ist."
Harte Arbeit erfordert von Zeit zu Zeit eine Pause und Mattis Sommerurlaub steht vor der Tür. Er sagt, dass er das Fliegen nicht einmal satt hat, er seinen Urlaub aber lieber woanders verbringt als in einem Hotel. "Außerdem überrascht mich das Frühstück im Hotel nicht mehr", lacht er.
Matti ist ein Vertriebsprofi, der auf jeden Fall den nötigen Antrieb hat. Aber was genau treibt ihn an?
"Mein Motto lautet Mut. Auf die eigene Professionalität zu vertrauen und sich neuen Herausforderungen zu stellen."