Neue Webinar-Reihe (2/3)
online
Durchgängig digital:
Werkzeugmanagement in der automatisierten Zerspanung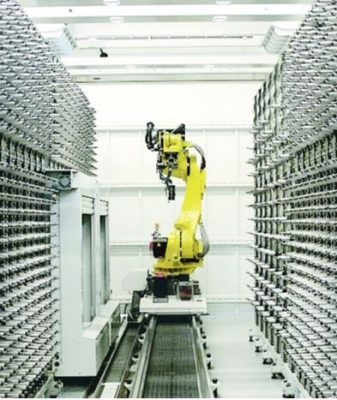 In unserer neuen, dreiteiligen Webinar-Reihe mit  TDM Systems dreht sich alles um ein durchgängiges Werkzeugmanagement, das über die Planungsebene hinweg bis in den Shopfloor hineinreicht.
Die digitale Werkzeugverwaltung ist ein essenzieller Erfolgsfaktor für eine gleichsam flexible wie hochproduktive zerspanende Fertigung, mit vielfältigen Potenzialen für eine höhere Wertschöpfung und den folgenden Vorteilen:
Optimierte Prozesse & effizienteres Arbeiten
Weniger Maschinenstillstände
Kürze Rüstzeiten & Durchlaufzeiten
Kosten- & Zeiteinsparungen
Höhere Transparenz
An den folgenden drei Terminen erfahren Sie in den aufeinander aufbauenden Webinaren, die ein Mix aus LIVE Demo und Präsentation sein werden, wie die Lösungen von  TDM Systems und Fastems im Sinne einer nahtlosen, digitalen Werkzeugorganisation sowohl auf Planungs- als auch Fertigungsebene ineinander greifen und Sie von diesem lückenlosen Informations- und Datenaustausch profitieren können. Selbstverständlich haben wir am Ende eines jeden Webinars ausreichend Zeit eingeplant, um auf Ihre Fragen einzugehen.
Darüber hinaus werden wir diese Webinare sowohl in deutscher als auch in englischer Sprache anbieten:
1. Webinar:   17.01.2023
"Digitales Werkzeugdaten-Management + flexible Automatisierung
für mehr Effizienz in Ihrer Fertigung"
2. Webinar:   31.01.2023
"TDM Tool Management Plattform – digitale Werkzeugdaten zur
Optimierung für jede Phase des Planungs- und Fertigungsprozesses"
3. Webinar:   14.02.2023
"Vollautomatisierte Bereitstellung von Werkzeugen
für eine optimierte Maschinenauslastung"
Im Teil 2 dieser Webinar-Reihe am Dienstag, den 31. Januar 2023 werden Robert Auer, Director Global Business Development bei TDM Systems und Volker Schwegler, Solution Architect von Fastems demonstrieren, wie TDM mit einer einheitlichen Datenbasis die gesamte Planungs- und Produktionskette unterstützt. Angefangen von der NC-Programmierung über das Lagermanagement, die Werkzeugmontage bis hin zur Voreinstellung.
Dadurch kann die Produktionsphase vereinfacht und beschleunigt werden. Auch hier spielt die MMS eine wichtige Rolle, da Sie anhand der NC-Programmdaten bspw. den Werkzeugbedarf für die Produktion ermittelt und hierbei prüft, ob sich die erforderlichen Werkzeuge im Magazin befinden bzw. im Bedarfsfall die für die Fertigung benötigten Werkzeuge automatisch anfordert.
Erfahren Sie in weniger als einer Stunde…
Wie Sie die Produktivität in Ihrer Fertigung mit einheitlichen und standardisierten Werkzeugdaten erhöhen (Fräser 4711 ist immer Fräser 4711).
Wie ein einheitlicher Datenfluss und entsprechende Softwaremodule Sie effizient in Ihrer Planungs- und Produktionskette unterstützen.
Wie Sie Ihre Prozesssicherheit durch eine bessere Planbarkeit mit verfügbaren Werkzeugdaten erhöhen.
Wie Sie Ihre Werkzeugbedarfsermittlung für NC-Aufträge vereinfachen (Die Werkzeuge an der Maschine sind identisch mit den Informationen im NC-Programm).
Wie Sie mehr Transparenz über Ihren gesamten Werkzeugbestand erhalten und immer die Standzeiten Ihrer Werkzeuge im Blick haben.
Wie Sie dank des Werkzeugdatenmanagements den Nutzungsgrad Ihrer Ressourcen optimieren und eine hohe Reproduzierbarkeit realisieren.
Das klingt interessant?
Dann registrieren Sie sich einfach über den nachfolgenden Link für das erste Webinar dieser Reihe
am 31. Januar 2023 um 10:00 Uhr und schon sind Sie mitten in einer hoffentlich spannenden Branchen-Diskussion.

Robert Auer
Director Global Business Development
TDM Systems GmbH
Robert Auer arbeitet seit 2016 bei TDM Systems und startete hier als Director of Sales Asia Pacific / Global Partner Sales. Nach 3 Jahren wurde er zum Director Global Business Development ernannt. Sein Fokus liegt auf der Erschließung und dem Aufbau neuer Märkte weltweit, aber im speziellen auf dem amerikanischen Markt. Er kommt aus dem Bereich Prozessautomatisierung, Werkzeugverwaltung und Tool Lifecycle Management und war davor als Head of Sales und Marketing bei der EffCom AG angestellt. Darüber hinaus bringt Robert Auer Vertriebs-, Key Account-, Marketing- sowie Auslandserfahrungen aus seiner früheren Tätigkeit bei Zoller Inc. (USA), Zoller GmbH und QUIAGEN mit.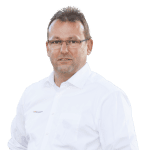 Volker Schwegler
Solution Architect
Fastems
Seit seinem Wiedereinstieg bei Fastems Systems GmbH arbeitet Volker Schwegler als Solution Architect im engen Kontakt mit den Produkt und Sales Managern an optimalen Automations-Lösungen für unsere Kunden. Volker Schwegler ist seit mehr als 25 Jahren im digitalen Produktionsumfeld tätig. Er hat, durch seine Tätigkeiten als Software- und Schnittstellen Designer und Entwickler, Projekt- und Produkt-Manager, sowie als Consultant im Engineering bei verschiedenen Unternehmen, unter anderem 10 Jahre bei Fastems, ein entsprechendes Knowhow für softwarebasierte Systemlösungen in der Fertigung. Diese Erfahrungen setzt er gewinnbringend für unsere Kunden und deren Anforderungen an eine digitalisierte und automatisierte Fertigung ein.
TDM Systems
Die TDM Systems GmbH ist der führende Entwickler von Software für das Werkzeugdatenmanagement, angefangen von umfangreichen Lösungen zum Daten- und Grafikmanagement, der Bereitstellung spezifischer Werkzeugdaten für die NC-Programmierung, der Organisation der Werkzeuglogistik (Umlauf, Lagerbestände), über die Unterstützung der Werkzeugmontage und Voreinstellung, bis hin zur Werkzeugbereitstellung an der Maschine sowie  Werkzeugbeschaffung. Eine Besonderheit der TDM-Software ist ihre hohe Integrationsfähigkeit in bestehende Systemlandschaften der spanabhebenden Produktion als entscheidende Basis für ein komplettes Tool Lifecycle-Management.
Fastems
Fastems bietet mit der Manufacturing Management Software (MMS) die derzeit wohl umfassendste und damit leistungsstärkste Lösung für die Planung, Ausführung und Überwachung der automatisierten spanabhebenden Produktion.
Die Software beruht auf jahrzehntelangen Erfahrungen des Systemintegrators und ist kompatibel mit einer großen Anzahl an Werkzeugmaschinen unterschiedlicher Hersteller.
Eine der besonderen Stärken der MMS ist die zentrale, auftragsbasierte Werkzeugverwaltung für die Produktion inklusive einer permanenten Überwachung der Werkzeugstandzeiten.